Revised: 16 April 2013
Safety Information
Reporting Adverse Reactions to Manufactured Blood Products
Most patients who receive blood components (red cells, plasma, platelets or cryoprecipitate) or manufactured blood products (albumin, immune and hyperimmune globulin and coagulation factor concentrates) do not experience adverse effects. When adverse events occur they may vary from mild to severe effects and may occur immediately during treatment, or be delayed for up to 48 hours, or in the case of some allergic reactions, for up to 4 weeks.
Reporting adverse effects enables identification of unusual or unpredictable reactions, risk factors (such as concomitant medication or underlying disease) and batch problems. Reporting can also lead to an improvement in the quality of the blood collection process and the manufacture of blood products.
Overview of systems
NZ Blood Service actively monitors adverse events arising from administration of blood components and blood products.
Adverse events caused by or associated with blood components (red cells, fresh frozen plasma, platelet concentrates and cryoprecipitate):

reporting forms are available in Hospital clinical areas, from Blood Banks and from the NZBS website. Blood components are manufactured by NZ Blood Service and adverse events are monitored through its Haemovigilance system.

Adverse events caused by or associated with manufactured blood products:

adverse events are monitored by NZBS and reported to the Manufacturer. Reporting forms for adverse events are available from all Blood Banks and the NZBS website: Adverse Reactions to Fractionated Blood Products Form
Blood products are manufactured by CSL Bioplasma using plasma collected by New Zealand Blood Service and by other overseas manufacturers using other sources of plasma. Manufactured blood products include albumin, normal and hyperimmune immunoglobulins (such as Intragam P and RhD Immunoglobulin) and coagulation factor concentrates (such as Biostate (Factor VIII & von Willebrand Factor) and Monofix (Factor IX)).
Because of their source, blood products are more immunogenic than most synthetic agents and hence carry a greater risk of immunological reactions. As well, blood products are frequently given to critically ill patients who are receiving multiple medicines that may also cause or contribute to adverse events.
Reactions may be obvious or obscure, immediate or delayed
Adverse reactions to manufactured blood products are often similar to those seen when cellular products or plasma components are transfused.
Some reactions are obvious (such as fever, urticaria, unexpected change in blood pressure) while others, such as failure of the product to give the expected response (eg adequate rise in Factor VIII levels after appropriate dosage) are less obvious, but are of equal importance.
A slightly higher frequency of minor adverse reactions may be seen if the patient is monitored very closely while being transfused. Reactions may not be apparent until several days after a transfusion, for example, haemolysis caused by some immunoglobulin products, or several weeks after transfusion in the case of development of antibodies reacting with the transfused product.
Reporting system for adverse events to manufactured blood products
The following chart shows the system of reporting adverse reactions to blood products: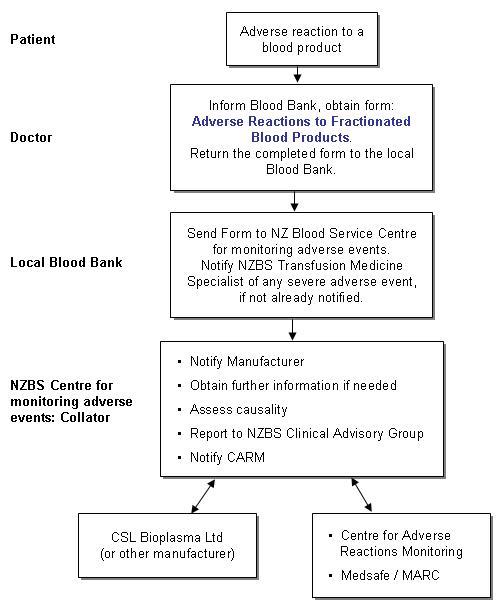 If necessary, further information is requested from the reporting doctor to assist with determining causality or the date and time of recovery. A causality assessment is sent to the doctor and CARM.
Significant adverse reaction reports are reviewed by the Medicines Adverse Reactions Committee (MARC) which recommends a course of action to the Minister of Health. Alternatively, if prompt action is required, Medsafe may proceed without the intervention of MARC.
Specific database for adverse reactions to blood products
NZ Blood Service maintains a database of adverse reactions to blood products. The blood products database enables the identification of:
unusual or unpredictable adverse reactions
risk factors such as concomitant medication, underlying diseases or rate of administration; and
batch problems.
Reporting improves quality of manufacturing and collection
Reporting adverse reactions to manufactured blood products is one form of quality control. Some of the impetus for the continual improvement in blood products seen in recent years has come from reports of adverse reactions to specific products. Each time an adverse reaction is reported, the manufacturer checks the production record of the product batch to assess test results and other relevant information. Sometimes stored samples of the product are retested to see if a change in composition occurred during storage. The nature and quality of the source plasma may also be reviewed.
Review of isolated reports can identify a pattern
NZ Blood Service internal review of adverse event reports and the review by the product manufacturer determine if a trend in reports may require a product recall. What may be an isolated event to one doctor may be part of a pattern of reports when reviewed nationally.
Reports increase knowledge
Reports of adverse reactions also allow a profile of each product to be built. This useful information is provided back to doctors via package inserts, published articles on specific adverse effects and in the national Haemovigilance Report.