Publications
Published: 7 September 2017
Update: Olanzapine Pamoate Depot and Post-injection Syndrome
Prescriber Update 38(3): 45
September 2017
The Centre for Adverse Reactions Monitoring (CARM) continues to receive reports of reactions that suggest post-injection syndrome has occurred following administration of olanzapine pamoate depot injection. Patients experienced reactions including agitation, anxiety, ataxia, confusion, dizziness, drowsiness, disorientation, dysarthria, sedation, slurred speech and somnolence.
In the June 2014 Prescriber Update article Reminder: Olanzapine Depot and Post-injection Syndrome, CARM had received 14 reports of reactions consistent with the signs and symptoms of post-injection syndrome following an olanzapine pamoate depot injection1. CARM has now received a total of 75 reports.
Of these 75 reports, 26.7% were in females, 72.0% were in males and 1.3% unknown. Approximately half of the patients (52%) were hospitalised following olanzapine injection while the remaining reports (48%) were classified as not serious. At the time of the report to CARM, two-thirds of the patients recovered without sequelae (69.3%), with the remaining patients not yet recovered (9.3%) or outcome unknown (21.3%). The patients who were reported to have experienced post-injection syndrome were from all age groups (Figure 1).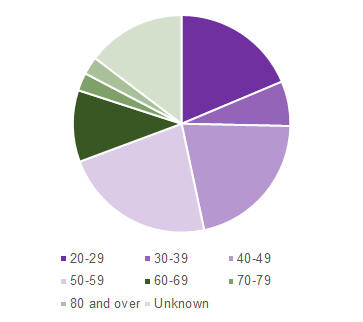 Figure 1: CARM reports of post-injection syndrome following olanzapine injection by patient age group as of 31 March 2017
During pre-marketing clinical trials, initial signs and symptoms related to post-injection syndrome appeared within one hour following injection and full recovery was reported to have occurred within 24–72 hours after injection in most cases2.
Olanzapine pamoate is an antipsychotic depot injection formulation, designed to release olanzapine slowly from the intramuscular site. It is administered by deep intramuscular injection into the gluteal region every two to four weeks.
Healthcare professionals are reminded that the potential risk of post-injection syndrome should be discussed with patients prior to administering each olanzapine pamoate depot injection. Patients must be monitored for at least two hours after each injection2.
Please continue to report any adverse events to CARM. Reports can be submitted on paper or electronically (https://nzphvc.otago.ac.nz/report/).
References
Medsafe. 2014. Reminder: Olanzapine depot and post-injection syndrome. Prescriber Update 35(2): 28–9. URL: www.medsafe.govt.nz/profs/PUArticles/June2014OlanzapineDepotAndPostInjectionSyndrome.htm (accessed 28 July 2017).
Eli Lilly and Company (NZ) Limited. 2016. Zyprexa Relprevv Data Sheet. 5 December 2016. URL: www.medsafe.govt.nz/profs/Datasheet/z/zyprexarelprevvinj.pdf (accessed 10 July 2017).