Publications
Published: 1 March 2018
Revised: 20 March 2018
Adverse Reaction Reporting in New Zealand — 2017
Prescriber Update 39(1): 4
March 2018
Medsafe and the Centre for Adverse Reactions Monitoring (CARM) would like to thank all those who submitted reports of suspected adverse reactions in 2017. Your reports are important in contributing to the post-market monitoring of medicines in New Zealand.
In 2017, CARM received a total of 3,815 suspected adverse reaction reports. These included 2,553 reports associated with medicines, 1,236 reports associated with vaccines and 26 reports associated with complementary or alternative medicines (CAMs).
Of all the reports received in 2017, 26.8% were considered serious. Serious reports accounted for 38.3% of medicine reports, 3.2% of vaccine reports and 21.4% of CAM reports. According to internationally agreed criteria, a serious adverse reaction is defined as any reaction that results in death or is life-threatening, causes or prolongs hospitalisation, results in persistent or significant disability/incapacity, is a congenital abnormality or is a medically important event.
Additional information about suspected adverse reactions reported in New Zealand can be found on the Medsafe website using the Suspected Medicine Adverse Reaction Search (SMARS) (www.medsafe.govt.nz/projects/B1/ADRSearch.asp).
The most frequent reporters of adverse reactions in 2017 were nurses, followed by GPs and hospital doctors (Figure 1).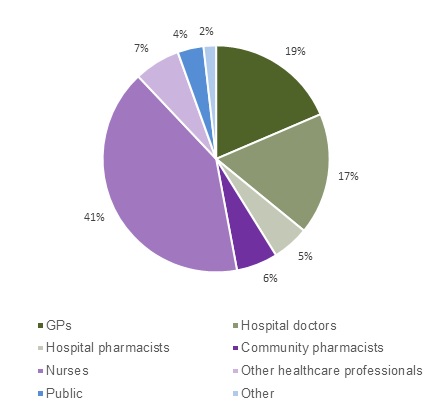 Figure 1: Source of adverse reaction reports in New Zealand in 2017
Please report any suspected adverse reactions to medicines, vaccines or CAMs to CARM. Anyone can report suspected adverse reactions, including healthcare professionals and consumers.
Reports can be submitted by:
filling an online reporting form at https://nzphvc.otago.ac.nz/
electronic reporting through GP Practice Management Systems
completing a freepost yellow card
using the Apple iOS app on your iPhone or iPad (download from https://nzphvc.otago.ac.nz/app/)
contacting CARM via phone on 03 479 7247 or emailing carmnz@otago.ac.nz.
If in doubt, report!