Safety Information
Revised: 2 November 2012
Metal-on-Metal Hip Implants - Questions and Answers
A number of manufacturers have issued hazard alert notices concerning particular components used for metal-on-metal hip implants. These components have been;
Below are some questions and answers to assist with understanding the issue affecting Metal-on-Metal hip implants.
What are hip joint replacement devices?
Hip joint replacement devices are commonly known as artificial hips. They are used to replace diseased or worn hip joints to restore greater freedom of movement and mobility for patients. These devices have been in use since the 1960's.
Typically the hip replacement devices comprise an assembly of three key components;
Femoral stem
Femoral head/ball
Acetabular cup (Socket and liner)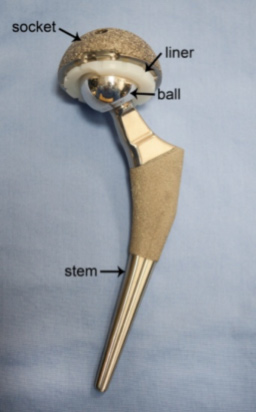 The femoral stem is the component which is implanted in to the thigh bone of the patient and provides the foundation for the implant.
The femoral head is the ball fitted to the top of the femoral stem. This component is one of the two moving surfaces of the joint and forms a ball and socket joint. The femoral head can be made from metal or ceramic materials.
The acetabular cup is the replacement socket that is implanted into the pelvis, and is the second of the moving surfaces. The acetabular cup is usually formed from two parts; the cup and the liner. The liner and femoral head form the articulating joint. The liner can be made from metal, ceramic, or high grade polyethylene.
Metal-on-Metal (MOM) joints are those that use a metal femoral head and metal acetabular liner.
Other combinations are:
Metal-on-Polyethylene - metal head and polyethylene liner
Ceramic-on-Metal - ceramic head and metal liner
Ceramic-on-Ceramic - ceramic head and ceramic liner
Ceramic-on-Polyethylene - ceramic head and polyethylene liner
Patients may be told about the type of implant they are receiving prior to the surgery.
Are all hip implants metal?
Replacement hip joints are available from a number of manufacturers in a range of materials. Metal is commonly used in all femoral stems which are the part that fits into the thigh bone. The heads used to replicate the ball at the top of the thigh are manufactured from metal or ceramic. The acetabular cup (liner) which is implanted in the pelvis to anchor the top of the thigh can be made from metal, ceramic, or high molecular weight polymers.
Metal-on-metal implants account for approximately 8% of all replacement hips implanted in New Zealand.
What is the problem with Metal-on-Metal hips?
All hip implants wear out over time and may need replacement (revision) surgery. Some metal-on-metal hip implants have been found to be requiring revision earlier than other types of hip implants.
Replacement of hip joints is a complicated procedure that has many variables which may affect the outcome of the surgery. Over time orthopaedic implants may require full or partial replacement, a process known as revision. Reasons for revision include: loosening, positioning problems, wear, or falls/accident. Joint registries and the implant manufacturers monitor trends in revisions and their causes.
The need for revision is not necessarily an indication that the hip implants are faulty as many factors including positioning of the implant, patient physiology, and trauma can contribute to the requirement for revision.
Can blood tests alone indicate problems with the implant?
No. Patients with any metal implant will have a very small increase in the level of metal ions in their blood (in the range of parts per billion) above the level found in the general population. The increase in metal ion levels in the blood is not necessarily indicative of poisoning or other physiological conditions. Other diagnostic testing, including X-ray imaging, is necessary to determine whether a revision is required.
Every patient's body will react differently to the presence of implanted devices. One patient may experience a reaction to the implantation of a hip replacement device, but a second patient may experience no problems. If you are experiencing any problems please contact your doctor or surgeon.
All implantable devices must demonstrate that the material they are manufactured from is compatible with the body. When metal devices are implanted in the human body there may be an increase in the level of metal ions in the blood. The existence of metal ions in the blood is not indicative of a problem in the body, but it is recommended that metal ion levels are monitored to determine if any changes occur.
Whenever two moving surfaces come into contact, as between the femoral head and acetabular liner, there is potential for wear. All combinations of metal, ceramic and polyethylene joint replacement devices are known to experience a small degree of wear. This may result in minute quantities of material being deposited around the hip joint. In very rare cases this may cause complications for the patient.
Link to information from the UK Medicines and Healthcare products Regulatory Authority about management of patients with Metal-on-Metal hip joints.
Is there any cancer risk associated with MoM implants?
The British Medical Journal published an article on this subject on 4 April 2012. The conclusion of the research is that there is no evidence that metal-on-metal hips were associated with an increased risk of any cancer diagnosis in the seven years following surgery.
Link to British Medical Journal article
How are medical devices approved in New Zealand?
There is no pre-market approval process for medical devices supplied in New Zealand. The only legislative requirement is to notify details of the device to a database operated by Medsafe on behalf of the Director-General of Health. Pre-market assessment by another regulator is not a pre-requisite to notify the device to the database. Medical devices are able to be freely supplied in New Zealand without requiring the approval of the Minister of Health
District Heath Boards (DHBs) purchase medical devices for use in their hospitals and on their patients. As part of their purchasing processes DHBs usually request confirmation that the devices being offered have been granted pre-marketing approval by a regulator such as the US Food and Drug Administration, or the Australian Therapeutic Goods Administration, or have been approved through the European CE process.
Currently the New Zealand and Australian governments are working to establish a single medicines and medical devices regulatory authority for the two countries. Under this arrangement, medical devices will be subject to both pre and post-market scrutiny in accordance with international best practice.
How do we know these devices are safe to use?
While there is no requirement for pre-market assessment for the New Zealand market, usually the hip joint replacement devices have been assessed by regulators in the USA, Europe and Australia and are approved for use in those markets.
What should I do if I think I have a metal-on-metal hip implant?
Firstly discuss your situation with your surgeon or GP. They will be able to confirm what type of implant you have received.
If you experience any symptoms including; hip/groin pain, local swelling, numbness, or changes in your ability to walk, contact your doctor or surgeon to let them know so that they can advise you on further follow-up or treatment.
If you have a metal-on-metal implant and you are not experiencing any symptoms it is important for you to continue to see your doctor or surgeon for regular follow-up. This monitoring may involve routine X-rays to check the positioning of the implant, and other tests.
Link to information from the US Food and Drug Administration (FDA) for patients with Metal-on-Metal hip joints
Link to information from the Australian Therapeutic Goods Administration (TGA) for patients with metal-on-metal hip joints
How are medical devices monitored in New Zealand?
Medsafe receives reports from manufacturers, suppliers and healthcare professionals about adverse events with devices.
As part of the work associated with the transition to a single regulatory authority for Australia and New Zealand, a project is currently investigating what and how medical device adverse event reports are supplied to the regulator and how this information can be made available to the public. It is anticipated that the legislation to be developed for the single regulatory authority will include a requirement for suppliers of medicines and medical devices to notify any adverse events to the regulator.
Wouldn't it be better to not use metal-on-metal any more until we know more?
Healthcare is about achieving the balance between benefit to the patient weighed against potential for complication. The use of hip implants has greatly improved the quality of life for the vast majority of people who have received them. If all metal-on-metal implants were to be immediately withdrawn from use large numbers of patients would not be able to benefit from this form of therapy, that is, in the most part, successful.
The continued use of metal-on-metal implants is being monitored by Medsafe and other regulators.
Information from other Regulators about Metal-on-Metal Implants
Australian Therapeutic Goods Administration (TGA) Metal-on-Metal implant information
US Food & Drug Administration (FDA) Information for Patients who have MOM Implants
UK Medicines and Healthcare products Regulatory Authority (MHRA) Metal-on-Metal Implant Information
Health Canada information for Patients about Metal-on-Metal Implants
Health Canada information for Healthcare Professionals about Metal-on-Metal Implants